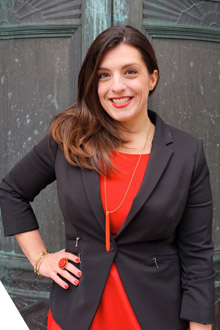 Christie Del Rey-Cone
Christie is a Founding Partner in Cerasia & Del Rey-Cone LLP. She is recognized as one of the leading labor and employment lawyers of her generation in New York.  In 2016, Chambers USA described Christie as "extremely smart" and quoted sources as saying that she "knows the law but is also very business-minded."  Chambers also stated that Christie is an "experienced litigator" who also is noted for providing clients with employment counseling and human resources training.  In 2015, Chambers noted that Christie is "a very well-rounded attorney, has great experience and covers a broad range of subjects." Clients also observed that "she's very smart and very practical. She definitely gives me the sense that she's going above and beyond on my cases."  While in 2014, Chambers USA noted that clients commend Christie for her ability to"figure out what's really needed and what the most direct line from A to B is, to help you get the result you want in a reasonable manner."  Chambers first recognized Christie in 2007, when it named her as the only "Associate to Watch" in New York for labor and employment.  In 2012, she was one of Chambers USA's five finalists for its national "Up and Coming" Female Employment Lawyer of the Year award.
As a full service employment lawyer, Christie represents employees and employers in a broad range of federal and state court litigation and arbitrations, employment counseling, and human resource training. Her litigation experience includes, among other matters, complex discrimination, harassment and retaliation suits, and class/collective wage and hour actions.
Her counseling experience includes terminations, employee classifications (e.g., exempt/non-exempt; independent contractor/employee), whistleblower issues and restrictive covenants. Christie regularly manages internal investigations into employee misconduct and advises clients involved in questions of wrongdoing or the initiating of complaints. She has substantial experience conducting wage/hour and employee classification audits in several industries and preparing human resources policies and handbooks.
Christie also spends time leading employment law training programs on topics such as conducting internal investigations, proper classification of employees, compliance with reasonable accommodation laws, and anti-harassment, anti-discrimination and anti-retaliation policies and best practices.  Frequently, employers also hire Christie to conduct independent investigations.
Christie has also added mediation to her practice.  After years of participating in "the fight," Christie has learned that, in many instances, resolution is the best and only answer.  With that in mind, she has allowed her breadth of representation of both individuals and employers educate her ability to serve as a neutral to bring parties together.  Christie mediates cases on both a private and pro bono basis including as a Special Master for the New York Appellate Division - First Department.
Christie has a genuine passion for labor and employment law, and attributes much of her success to being well-mentored both by the federal magistrate judge for whom she clerked after law school and the partners with whom she worked closely as a partner and associate at some of the world's most prestigious law firms. What Christie most enjoys in her practice is that the nature of employment law involves solving problems for clients and dealing with people in a context of life that, for many, defines them – their livelihood.
Before entering private practice, she clerked for U.S. Magistrate Judge Arlene R. Lindsay of the U. S. District Court for the Eastern District of New York. Christie is admitted to practice in New York, New Jersey and Pennsylvania and before the U. S. Court of Appeals for the Second and Third Circuits, all the U. S. District Courts in New York, the U. S. District Court for the District of New Jersey, and the U.S. District Court for the Eastern District of Pennsylvania.
Christie received her law degree from Seton Hall University Law School in 2002, where she was the Notes and Comments Editor for the Constitutional Law Journal, and her undergraduate degree in Sociology and American Studies from Franklin & Marshall College in 1999.  Christie now proudly serves as a member of F&M's Alumni Leadership Council.
Christie spends a significant amount of time giving back to her community. Christie serves as President of the PDR Foundation for the Study of Uterine Cancer (a grass roots organization started following her mother's brief, but valiant, battle with cancer). Christie and the PDR Foundation are passionate supporters of the American Cancer Society's Hope Lodge in New York City, which provides free lodging for cancer patients being treated in New York City. Christie also sits on the Civil Rights Commission in Rutherford, New Jersey.  Christie enjoys using the non-legal parts of her brain to teach barre fitness classes for a studio in NYC and work on the podcast that she co-hosts, From Where She Sits.  Christie's life outside of her professional life, passion projects and volunteer organizations revolves largely around family and, particularly, cooking big Italian dinners on Sundays -- a tradition she inherited from her mother and embraced.
Representative Reported Cases
McElroy v. Sands Casino, 2014 U.S. Dist. LEXIS 2416 (E.D. Pa. 2014) (granting defendant's motion to strike plaintiff's opposition to summary judgment motion and granting defendant's motion for summary  judgment on the merits as to plaintiff's breach of contract and FMLA claims).
Wenzel v. NYU Hospitals Center, 10-CV-2462 (RMB)(S.D.N.Y. Dec. 27, 2011) (granting summary judgment dismissing plaintiff's claims of gender and age discrimination, retaliation and hostile work environment).
Reid v. SuperShuttle Int'l, Inc. 2010 U.S. Dist. LEXIS 26831 (E.D.N.Y. 2010) (court compelled arbitration of plaintiffs' wage and hour claims and enforced class action waiver in arbitration clause).
Duviella v. JetBlue Airways Corp., 2009 U.S. App. LEXIS 24895 (2d Cir. 2009) (affirming summary judgment dismissing race and age discriminations claims by plaintiff who was fired for violating nonharassment policy).
Weir v. The Guardian Life Ins. Co. of Am., 2009 U.S. App. LEXIS 23941 (2d Cir. 2009) (affirming summary judgment dismissing plaintiff's breach of contract and reformation claims).
Brookhaven Science Assocs., LLC v. Donaldson, 2007 U.S. Dist. LEXIS 58793 (S.D.N.Y. 2007) (case of first impression where court granted declaratory judgment holding that NYS Division of Human Rights lacked jurisdiction to enforce NYHRL against Brookhaven).
Complex Litigation and ERISA Cases
Oakley v. Verizon Communications Inc., 2012 U.S. Dist. LEXIS 12975 (S.D.N.Y. 2010) (denying plaintiffs' motion to certify a class as to their FMLA claims).
Kuznetsov, et al. v. XpresSpa, U.S.D.C., E.D.N.Y. (2010-2011) (purported class action alleging national origin discrimination).
In re Agway, Inc. 401(k) ERISA Litig., U.S.D.C., N.D.N.Y. (2003-2008) (represented 25 members of board of directors of Agway in two 401(k) "stock drop" cases – one by independent fiduciary and the other by U.S. DOL – alleging that directors breached their ERISA fiduciary duties and engaged in prohibited transactions in connection with 401(k) plan participants' losses from investments in Agway's securities; case settled for $11.55m, with named defendants allowed to participate in settlement fund and no injunctive relief against directors).
Wage and Hour Cases
Kuznetsov, et al. v. XpresSpa, U.S.D.C., E.D.N.Y. (2010-2011) (purported collective/class action alleging denial of minimum wage and overtime pay).
Allen, et al. v. amNew York, et al., N.Y.S. Sup. Ct. (2007-2010) (represented amNew York in purported class action by newspaper "hawkers" to recover minimum wages under N.Y. Labor Law).
Dorofy, et al. v. American Int'l Group, Inc., U.S.D.C., D. N.J. (2007) (collective action by insurance adjusters seeking overtime pay under FLSA; case voluntarily dismissed during discovery, after court limited discovery to named plaintiffs only).