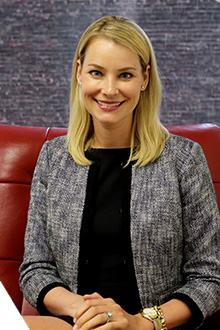 Alison L. Tomasco
Alison L. Tomasco is Of Counsel at Cerasia Law LLC.  Going back to 2010, Alison has been recognized by clients and peers as a Super Lawyers "Rising Star" in the employment law field, which is an honor bestowed on less than 2.5% of lawyers.  Alison is an important part of the Firm's team-based approach to providing quality client service and obtaining results.
Alison has substantial experience handling all aspects of labor and employment law.  She regularly litigates discrimination, harassment, retaliation and wrongful termination suits in state and federal courts and claims before administrative agencies.  Early in her career, Alison gained first-hand jury trial experience as one of the lead associates on a trial team representing a Fortune 50 pharmaceutical company in a disability discrimination case, which resulted in a jury verdict on behalf of the client.
Alison also regularly counsels clients on a variety of matters, including employee discipline and termination, internal investigations, employment and separation agreements, and policy and handbook reviews.  Clients consistently praise Alison for her practical advice and patience in navigating complex situations. 
Prior to joining Cerasia Law (and its predecessor, Cerasia & Del Rey-Cone LLP), Alison practiced employment law at two nationally-known law firms.  She graduated cum laude from Boston College Law School in 2006, where she was an editor of the Boston College Third World Law Journal and published her Note, "Country Club Discrimination After Commonwealth v. Pendennis."  She graduated magna cum laude from the University of Notre Dame in 2002, with a B.A. in English.
Alison is licensed to practice law in New York, New Jersey and Pennsylvania, as well as in various federal district courts within those states and the U.S. Court of Appeals for the Third Circuit.  
Representative Cases
McElroy v. Sands Casino, 2014 U.S. Dist. LEXIS 2416 (E.D. Pa. 2014) (granting defendant's motion to strike plaintiff's opposition to summary judgment motion and granting defendant's motion for summary judgment on the merits as to plaintiff's breach of contract and FMLA claims).
Mowafy v. Noramco of Delaware, Inc., 620 F. Supp. 2d 603 (D. Del. 2009) (granting summary judgment dismissing plaintiff's claims of discrimination and hostile work environment based on religion, national origin and age).
Paynter v. ARAMARK Corp., 07-02214 (E.D. Pa. 2008) (granting summary judgment dismissing former employee's claims of reverse race-based discrimination, retaliation and hostile work environment).
Fulton v. Johnson & Johnson Pharma. Research & Dev., LLC, U.S.D.C., D.N.J. (2008) (obtained defense verdict after 7-day jury trial on plaintiff's discrimination claim under the NJLAD).